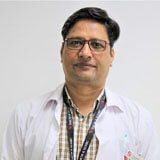 Dr. Prasad Bhanap
MBBS, MD (OBGY)
In-Charge Medical Superintendent , Symbiosis Medical College for Women
यत्र नार्यस्तु पूज्यन्ते रमन्ते तत्र देवताः ।
"Wherever women are worshiped, the Gods find delight therein! I welcome you to the first Medical College in the State of Maharashtra exclusively meant for girl students. Symbiosis Medical College for Women (SMCW) & the attached Symbiosis University Hospital & Research centre (SUHRC) are a part of the Symbiosis educational conglomerate which has given a unique educational and cultural identity to historical city of Pune.
The 900 bedded SUHRC is the dedicated teaching hospital for SMCW and has robust infrastructure & a team of dedicated medical service providers and paramedical staff who not only serve the ailing population but also help medical students learn the highest standards of patient care by developing clinical skills in addition to communication skills with empathy.
SUHRC has state-of-the art diagnostic and imaging facilities. The spacious outpatient departments, well equipped and comfortable in-patient wards and 24 X 7 X 365 Casualty services are a boon for neighbouring sub-urban and rural area. Hi-tech, spacious operation theatres and in patient services such as dialysis, intensive care unit, endoscopy, cancer chemotherapy facilities offer the best in class services to needy people.
Welcome to Symbiosis Medical College for Women.
Welcome to Symbiosis University Hospital and Research Centre.