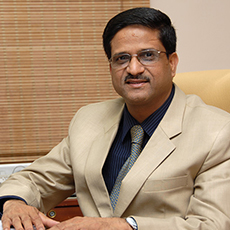 Dr. Rajiv Yeravdekar
Provost, FoMHS(Deemed University) (SIU)
Director, Symbiosis Institute of Health Sciences (SIHS)
Member, Board of Management SIU
Member, Managing Committee Symbiosis
Ex-Member, Board of Governors Medical Council of India (MCI) Govt. of India
Member, Maharashtra Medical Council (MMC) Govt. of Maharashtra
Member, Central Supervisor Board-PCPNDT Govt. of India
Member, Governing Council of Consultancy Development Centre (CDC) DSIR Ministry of Science and Technology Govt. of India
Innovation and a passion for excellence has now become a second nature for all of us at Symbiosis. These two derivatives well justify the establishment of the Symbiosis Institute of Health Sciences (SIHS).
Symbiosis has a proven track record in the field of education with management education being its flagship. With changing times, Symbiosis diversified into other education arenas like computers, law, information technology, Geo-informatics, etc. Health Sciences are yet another need based domain which Symbiosis has tapped. Given the paradigm shift which the health care sector is experiencing, Health Sciences probably represent the most ideal field for Symbiosis to innovate. The ample opportunities which this field presents by way of research further testifies to the significance of this department.
With its objective of bringing together professionals from diverse disciplines to design contemporary need based academic programmes pertinent to the health care sector, I am sure SIHS is ideally poised to pursue this mission of striving for excellence in the field of Health Sciences which is important to one and all.
The excellent infrastructure, experienced faculty and other facilities are all here to harness your potential and help you to become a vital link in the health care sector.