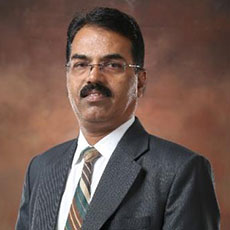 Dr. M. S. Shejul
Ph.D.
Registrar, SIU
Symbiosis International (Deemed University) is established on the Vedic Principles of 'Vasudhaiva Kutumbukkam' by the visionary educationist Prof. Dr. S. B. Mujumdar, Chancellor of the University.
The University had envisioned in creating world class infrastructural and medical facilities with an ultra-modern Hospital and Research Centre and a Medical College with state-of–art laboratories, which shall not only cater to the local community but benefit educators and students in studies and research. I am sure that qualified and experienced faculty recruited will not only mentor the students but build on the foundations of the Symbiosis and place them in the best leadership positions.
The Symbiosis Medical College for Women, a Constituent of Symbiosis International (Deemed University), is established for women to make an opportunity to excel in the field of medical education. In its pursuit of excellence, the College shall endeavor to create a dynamic and synergistic environment for students to aspire for successful careers in varied fields of medicine as scientists, doctors, researchers who shall strive to eradicate diseases and serve humanity.
Internationalisation of Higher Education is the DNA of Symbiosis. This idea will obviously be replicated in the Medical College also. Students from diverse backgrounds from across the country and globe will adventure into new ideas which will help in advancement of humanity.
I take this opportunity to welcome students to become a part of the Symbiosis Legacy.